DISCLAIMER
the content of these galleries is a private property
neither the text nor the pictures may be republished, nor used for any purpose, without the author's permission


---
I wish to thank Jeff Hopewell, John McLeod and Hironori Takahashi for kindly providing me with help
---

MEKURI CARDS
(FOUR SUITED PATTERNS)

All the cards shown in this page come from editions by Nintendo (Japan),
with the only exception of the three subjects from the Tensho pattern (original specimens kept in the Miike Museum).



---




Mekuri is the name of a group of card games, which had developed in the 18th century. They were played with a deck basically identical in composition to the early Tensho Karuta, the earliest variety of Japanese cards, modelled on the standard Portuguese pattern taken into the country during the mid 16th century.
~ SUITS ~
| Ôru | Ouros | Coins |
| --- | --- | --- |
| Koppu | Copas | Cups |
| Isu | Espadas | Swords |
| Hau | Paus | Batons |
~ COURTS ~
| Sôta | Sota | Knave |
| --- | --- | --- |
| Uma (horse) | Cavaleiro | Cavalier |
| Koshi (prince) | Rey | King |
Since mekuri games are now extinct, this group of patterns is also locally known as "4-suit cards". In fact, these patterns have four suits of twelve subjects each, ten of which are pip cards and three are courts. Besides their composition, also the shape of the suit signs and their names are related to the original Portuguese ones.
Mekuri suits are Ôru (Coins), Koppu (Cups), Hau (Batons) and Isu (Swords), see table on the left. Most mekuri patterns also have a further extra subject, popularly called Oni-fuda ("ogre card"), whose personage often carried above its head a small notice that says Kin-fuda ("golden card"); in fact, the latter is the proper name of the subject.

Mekuri patterns were born in the 18th century, after several bans issued upon the previous card games (Unsun Karuta and Tenshô Karuta), due to the strict attitude of the local authorities towards gambling, especially with cards of foreign origin. Since these patterns were born with the main aim of conceiling the look of the deck, so to avoid a further ban, the illustrations were somewhat disguised by hiding many original details.


Oni-fuda from
Akahachi pattern
(above) and from
Kurofuda (below)


The result was that while most pip cards were still easy to read, aces and courts became very difficult to tell, at least by a Western eye: in all mekuri patterns the human figures of knaves, cavaliers and kings are extremely stylized and barely distinguishable, almost completely covered by heavy strokes of colour.


Besides black and red, the two main colours used, many subjects have characters, textures and embellishments overprinted in silver paint, especially in aces and court cards, often obtaining an interesting semitransparent effect.


ace of Koppu, cavalier of Ôru and knave of Isu,
from the Akahachi pattern (above)
and the Kurofuda pattern (below)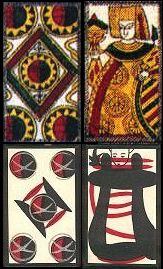 5 of Ôru and knave of Koppu
from early Tenshô Karuta (above)
and from Akahachi pattern (mekuri)
Also the shape of the suit signs was substantially simplified, but all four of them can still be easily told. Ôru (Coins) were turned into disks or dots, half red and half black; Hau (Batons) became thick intersecting stripes coloured in black; Isu (Swords) were drawn as thin red rods, arranged in a fashion similar to the previous suit.


the 3 of Koppu
from the Tenshô Karuta
Koppu (Cups), instead, changed in two different ways: in some patterns they kept the same round shape they had in Tenshô cards, while in others they were "flattened", and almost turned into cup lids, with no vessel below (see also the animated pictures on the right).

A list of their names is shown in the table below.


the mekuri suit signs with round Koppu (left) and flat Koppu (right)
Mekuri patterns with
round Koppu

Fukutoku

Kingyoku

Kurofuda

Kurouma

Mitsuôgi

Sakuragawa

Sôkin Fukutoku



5 of Koppu from the Akahachi and Kurofuda patterns




Mekuri patterns with
flat Koppu

Akahachi

Ise

Komatsu





A geographic distribution of mekuri patterns can be seen in the map below, which shows how these cards were popular especially along the northern coast facing the Sea of Japan (round-shaped cup patterns) and in central areas (flat-shaped cups).




1 · FUKUTOKU
2 · KINGYOKU
3 · KUROFUDA
4 · KUROUMA
5 · MITSUÔGI
6 · SAKURAGAWA
7 · SÔKIN FUKUTOKU
1 · AKAHACHI
2 · ISE
3 · KOMATSU





2 and 8 of Hau (left), and 2 and 8 of Isu (right),
from Akahachi (above) and Kurofuda (below)


Unlike European regional styles, which are usually named after the deck's geographic location, most mekuri patterns were given fancy names, according to their distinguishing details: Akahachi means "red eight", Komatsu is "little pine", Kurofuda means "black or dark cards", and so on. Only Ise pattern was named after the local peninsula.

Some of the patterns also had alternative names, but specific sources of information about these cards are very difficult to access. Most young local card players now even ignore that once these patterns were popular in many parts of the country. This explains the difficulty in retrieving information and in compiling a definitive list of varieties.





Since the word mekuri comes from the Japanese verb mekuru = "to turn (a page, a card)", it is very likely that in this group of games cards were turned face up from a pile, a scheme still found in Hanafuda rules. These games slowly fell into oblivion during the first half of the 20th century, also due to the ill-reputation given in Japan to all gambling card games.


Akahachi pattern: king, cavalier, 6 and 1 (ace) of Hau;
note the use of silver overprints





Kurofuda pattern:
2 and 7 of Ôru

Around the mid 1900s mekuri games became practically extinct, and the manufacturing of many patterns was discontinued within a couple of decades. The few ones now produced are almost considered items for collectors or for game historians.











---
other pages in this gallery
---
OTHER GALLERIES





















or back to



INTRODUCTION
AND HISTORY



MULTI-LANGUAGE
GLOSSARY

THE FOOL &
THE JOKER


INDEX
TABLE


REGIONAL
GAMES


PLAYING CARD
LINKS




---